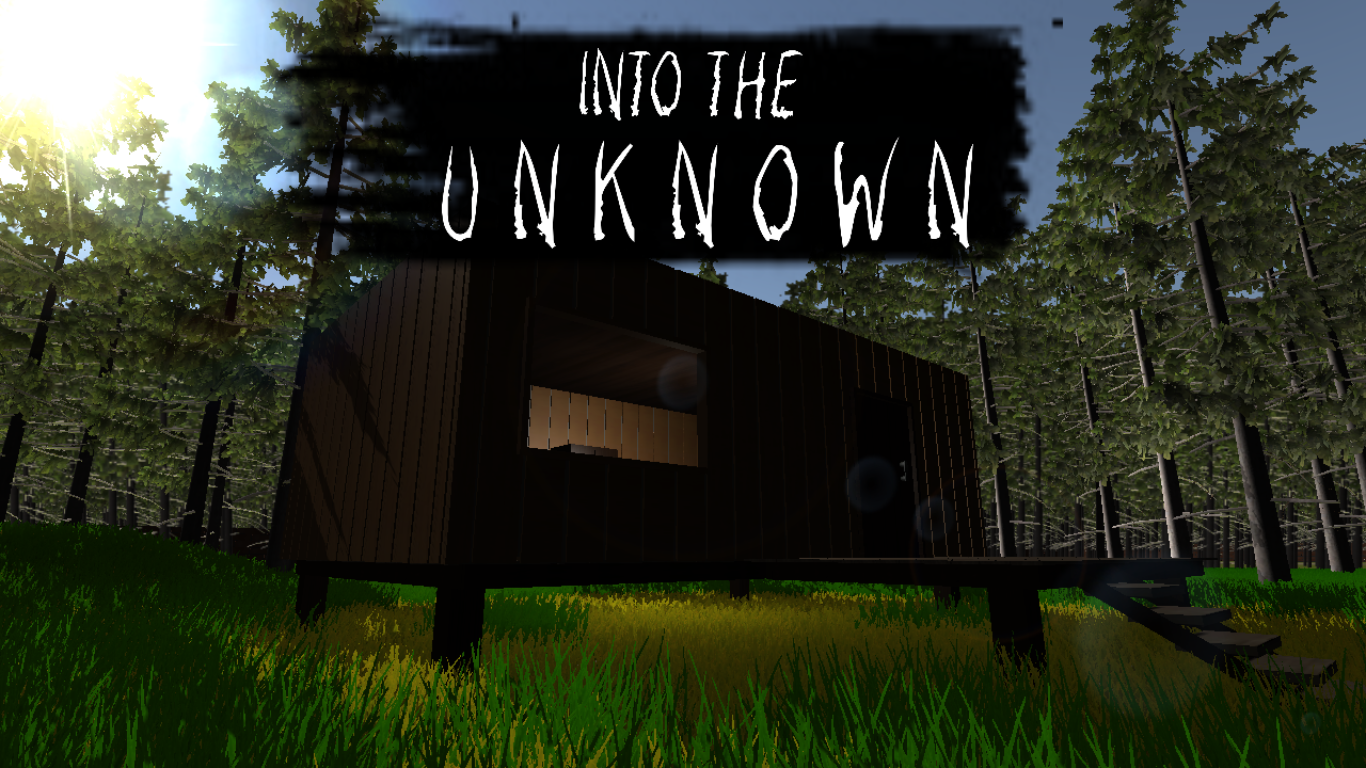 Into The Unknown
A downloadable game for Windows, macOS, and Linux
There's nothing scarier than waking up in the middle of the forest alone... or so it seems. Taking control of Rachel in this exploration game, you must find out where you are, why you're there, and most importantly, how to get out. What will you uncover when you delve into the unknown?


Into The Unknown was created by middle school students Conner Rush (Programming) and Rachel Bennett (Art). The first game ever created by FYRE Games, this is a short, suspensful, story based game. It's only about 20 - 25 minutes long, but our beta testers have all unanimously decided that it's well worth your time. All donations made to this game will go toward funding our future projects, so we highly encourage you donate!
If you have any external reviews ( i.e. videos, articles, etc. ) we ask that you leave a link in the comments because you don't know how much we appreciate the feedback!
NOTE: THIS IS NOT A SURVIVAL GAME! This is a story driven game with time to take in and explore your environment. There's no need to hunt for food or craft supplies. Just enjoy the story and enjoy the visuals.


You can also vote for this game on Steam Greenlight: http://steamcommunity.com/sharedfiles/filedetails/?id=684641960
Follow us on twitter: https://twitter.com/FyreGamesReal


System Requirements:


PC: Windows XP SP2+


Mac: Mac OS X 10.8+


Linux: Ubuntu 12.04+


Game Controls:


W, A, S, D = Walk / Select Item


Mouse = Look


Left Click = Use Item


Right Click = Inventory


Space Bar = Jump


Shift = Run


F = Interact


C = Spark Lighter


Q = Lean Left


E = Lean Right


R = Toggle Center Dot


Esc = Exit To Menu



Thanks for playing!
| | |
| --- | --- |
| Published | May 15, 2016 |
| Status | Released |
| Platforms | Windows, macOS, Linux |
| Rating | |
| Author | FYRE Games |
| Genre | Adventure |
| Tags | 3D, Atmospheric, Casual, Exploration, Female Protagonist, First-Person, Multiple Endings, Mystery, Short, Story Rich |
| Average session | About a half-hour |
| Languages | English |
| Inputs | Keyboard, Mouse |
| Accessibility | Interactive tutorial |
| Links | Steam |
Download
Click download now to get access to the following files:
Into The Unknown (PC).zip
170 MB
Into The Unknown (Mac).zip
139 MB
Into The Unknown (Linux).zip
139 MB
Comments
Log in with itch.io to leave a comment.
Very cool game. I love the fact that it has 2 different endings. The story is interesting and graphics are quite good. Just the walking mechanism could be a little better. But overal I did really enjoy it.
Keep making games!

I made a playthrough with commentary/reactions for those who are interested.

Hello! I played your game and I thought it was really good! I really enjoyed playing it and even recorded it. I played it twice because I got one ending and wanted to try for another ending, but I'm wondering is there only one ending? When I tried to follow directions doing the correct thing didn't end up doing anything. The game ended up crashing shortly after, so I just figured maybe there was only one ending. Either way, here is the video if you're interested. Great job and I hope you make more games in the future!
I haven't heard this issue from anyone else. I'll look into it whenever I can, but I don't have access to a computer until the end of the week. But anyways, thanks for the video, and I'll be sure to show the other people who helped as wel
okay, I watched the video and I saw the error you were having. I know how to fix it, but I'll need a computer to do that, so the update might not be out until Friday or Saturday. The second ending actually still works, but the dialogue that's supposed to play to tell you what to do next wasn't triggered for some reason. If you decide to try it again, we're actually getting a steam release, so you can download it there. Otherwise, I loved the video and thank you so much for delving into the unknown!
This game as it is has a pretty good visuals and SFX! That's the first stuff u notice when starting any game. So, devs nailed this part! Plotwise (A little SPOILER alert, I guess) Into the Unknown has a good twist that could've a better explained ending (I got only one for now). Or, this fact can be used as a binding point to the next part of a game.
Into the Unknown contains a monster that has a weakness that makes monster useless. Maybe, I wasn't paying attention to something and ran through the game too fast to experience the hard time.
All in all, I'm happy to find this little indie project! It's not Dark Souls, so it's not supposed to be hard. It's all about journey that Into the Unknown has to offer.
Have a nice time playing! :D
Did a video on this game, so u can see reaction to certain parts of it, if u're interested
I'm glad to see that you enjoyed it! I'm guessing you got the safe ending, but don't worry about the confusion, it's all summed up after playing through both times. Also, the enemy really wasn't made to be super difficult, just something to keep the player on their toes. If it faced too much of a challenge, you would kind of lose the immersion. I'm going to watch the video in a bit, but until then, thank for delving into the unknown!
I watched the video and I have to say that it was really funny and well put together. Also, my name is Conner, not Gunner :D. You also brought up our group name too, and the "misspelling" of FYRE. I will assure you that it's spelled FYRE for a reason. It's also in all caps for a reason while the Games in our name isn't.
Yeah, the ending made me intrigued! I'm definitely serching for answers again :D
The monster was hillarious tho. At first, I was so disoriented by the fact that it looked like a car lights in the middle of nowhere! So, yeah, I guess, there's no need in a cruel undead that'll chase you down, so you have to start the game over and over again. Just a little smoky who'll keep u on track is enough
Thank you :D
I'm so sorry for making a mistake in your name! It was't intended. It was 50/50 for me, but I decided that it was Gunner
And, yeah, I know that this kind of "misspelling" often has its own reason. It's just something that seemed funny to me :D


This is a simply and well made little adventure game. the graphics are good, and the sound design and voice acting are all well done. To be honest I wasn't expecting a lot from this game. But I will say I was pleasantly surprised by what this game had to offer. And the fact that this game was developed by 2 middle students is just cool. All in all a simply and fun little indie adventure with a nice twist when it comes to its ending. I can't wait to see what the developers come up with next as their skills grow. I did a video on my experience with the game if anyone is interested.
I would just like to say thank you for the great review you left here. We were very, very pressed for time, so I'm glad to see that we could put something together that people enjoy in that time. I'll be sure to watch your video later too. Also, we are definitely planning on new games in the future., and are working to make our next one better than the last!
You made some really good points in your video. I ran an update to make it so that The Shadow can no longer enter the buildings. Thanks for the input